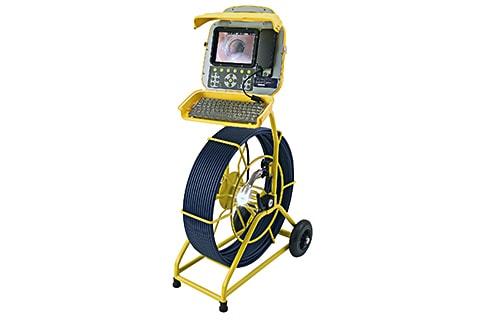 Inspection software updates
This page provides software downloads for the GatorCam3+ and GatorCam Digital+.
Radiodetection GatorCam3+ and GatorCam Digital+ systems. It is important to use the latest software before conducting your next survey as software updates offer enhanced performance and improved stability.
Software is free to download.
Compact Flash Compatibility Note:
The GatorCam3+ and GatorCam Digital+ controllers support only high-speed (40x and write speed of 6Mbps minimum) TYPE 1 high quality Compact Flash cards with a capacity of up to sixteen gigabytes (16GB).
Please note that there are other Compact Flash card technical specifications that may affect a Compact Flash card's performance or compatibility with the controllers listed above. These specifications may not be documented by the card's manufacturer or retailer.
Cards which have been tested and proven to work with these systems are:
SanDisk    Extreme (UDMA), 16GB, 400x
SanDisk    Ultra, 2GB, 200x
Integral    1GB
Integral    i-Pro, 2GB, 40x
Integral    i-Pro, 2GB, 100x
Integral    i-Pro, 4GB, 100x
Cards other than those listed above cannot be guaranteed to work correctly with software revision 2.62 or higher.
Note: 
Before you upload the new software to your computer, check the current software version number on your system as it may already have the latest software.To do so check the "Controller Main" version by pressing simultaneously Fn+F1 (for version 1.38 or earlier) or Fn+F4 (for version 2.62 or later) on the controller's keypad
Warning:
Warning for users of Kingston Compact Flash Cards:
Due to technical compatibility issues Kingston Compact flash cards are no longer supported from software version 2.62 onwards. Do not upgrade if you wish to continue to use your Kingston Compact Flash Card.
The update process may take several minutes.Do not remove the Compact Flash card or switch off the system until the update is complete.The procedures below are for users who are familiar with navigating the the Gatorcam3+, and Gatorcam Digital+ menus. Please read the User Guide or Operation Manual if you need to familiarize yourself with the menu.
Visit product pages to download User Guides and Operation Manuals.
How to update your software:
To update the software, first download the zipped bundle of files which contain the latest update. Once the file is downloaded to your computer, extract the "RP2967.bin" file using WinZip, or a similar archive package manager, and copy it to the root directory of a Compact Flash card.
Insert the Compact Flash card into the command module and switch the module on. Once the command module is switched on, update the software using the instructions below.
Command Module Main software update:
SETUP → DEVCE → CONTR → UPDTE → UPLOAD
Download