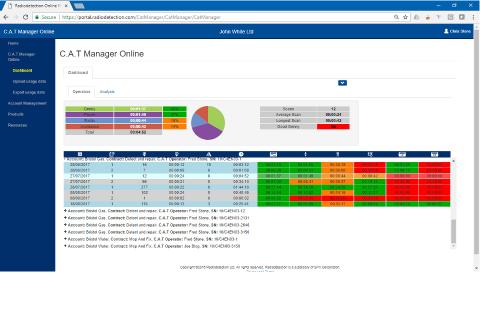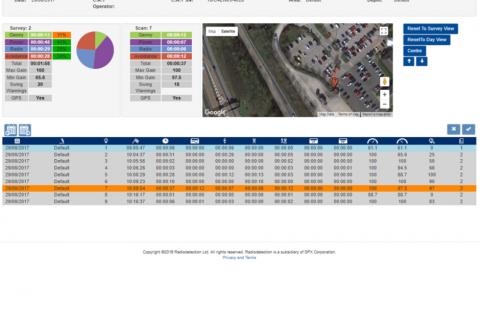 C.A.T Manager Online
Mapping and Digital Solutions

Cable Avoidance Tools
C.A.T Manager Online is a remote management tool that enables automatic usage-monitoring of gC.A.T4 fleets. Using a standard web browser, managers and supervisors can review how their entire team of field operators are using their C.AT locators.
Enabling near real-time reports, C.A.T Manager Online can be used to check work quality before operators leave the site. The data can also be used to prevent poor work practices developing, by identifying training needs early.
gC.A.T.4 GPS Cable Avoidance Tools connect with a free Android or Apple mobile app to transfer usage data to the remote server at the end of each scan. There is no need for operator intervention or complex manual data retrieval, saving time and effort for both field operators and office staff.
The web interface provides a structured analysis and presentation of the data, allowing supervisors to easily assess work quality. Built-in GPS adds location information to all the scans, and surveys can also be visualised using the Google Maps interface.
Try the system out today!  Follow the Quick Start Up guide from the Literature section of the Radiodetection online support portal, available at support.radiodetection.com.
Visit portal.radiodetection.com, set yourself up as a guest user and follow the instructions to set up a company.
Free to use
C.A.T Manager Online Standard is free to use for all companies with a Radiodetection Portal account.
The Pro versions offers extra functionalities to automate and enhance field operations monitoring.
Online support portal
Access support guides and articles online on support.radiodetection.com from your PC, tablet or phone. Raise and monitor the progress of your tickets.
Always Evolving
The C.A.T Manager online system is continually evolving, offering new functionalities and features designed in collaboration with our customers, to simplify field and office operations.
Choice of Subscriptions
| | | | |
| --- | --- | --- | --- |
|   |   |   |   |
|   | Features | Standard | Pro |
|   | Android and Apple mobile app | ✓ | ✓ |
|   | C.A.T fleet management | ✓ | ✓ |
|   | Online Storage | 3 months | Indefinite** |
|   | C.A.T operator feedback | ✓ | ✓ |
|   | Survey Analysis & Usage reporting | ✓ | ✓ |
|   | Backup option | ✓ | ✓ |
|   | E-Mail and tickets support | ✓ | ✓ |
|   | Phone Support | x | ✓ |
|   | Team and account management | x | ✓ |
|     | Advanced statistical analysis | x | ✓ |
**Full usage data store for 12 months; summary thereafter
Android and iOS mobile app
C.A.T fleet management
Register and maintain all your gC.A.T4 and Genny 4 products online.
Check when the C.A.T calibration is due to expire, associate notes to your products and see who last used your gC.A.T4 units and when
Online Storage
The C.A.T Manager Online system stores and backs-up all your company's data on a secure cloud based server. No need to change your company's IT infrastructure
Local Storage
Retrieve all the data stored on the C.A.T Manager server to store on your PC or local network
Survey analysis and usage reporting
All scans received from C.A.T Manager Mobile, or uploaded using the web upload function, are automatically grouped into survey tasks and can be reviewed using a standard web browser. Usage analysis and survey reports can be generated and downloaded as PDF files
C.A.T operator feedback
C.A.T Manager Mobile apps allows operators to receive immediate on-site feedback when a data connection is present, helping them to improve their performance and to operate more safely
Advanced statistical analysis
Pro subscribers benefits from detailed statistical analysis to assess operators, regions and accounts. Aids performance reviews and identifies training needs to help prevent issues and improve safety
Team and account management
Pro subscribers can organise gC.A.T4 operators by region and by depot, and field operations can be sorted into individual accounts and contracts.
This allows managers to review and report on the performance of different groups of users to identify areas of excellence or those requiring support, and enables management to report to their end customers, documenting adherence to best practice, or ongoing improvements
Advantages
Radiodetection's C.A.T Manager Online system provide facts, evidence and data to Health and Safety operatives and Supervisors enabling an objective approach to training improvement decisions.

•Inform about the behaviour of their crews

•Ensure adherence to best-practice

•Identify training needs before poor work habits develop

•Enable checking the quality of work before excavations begins

Customers have reported a 33% reduction in utility strikes when monitoring is used with C.A.T4 and Genny4 Cable Avoidance tools

Fewer utility strikes improve safety and reduce the risk of personal injuries

•Cutting an electric cable can result in electrocution and fire damage

•Breaching a gas pipe could result in an explosion

 

Historical excavation data show that the UK average utility strike rate is around 1.2%, so  a crew averaging 2 excavations a day could expect 6 utility strikes in a year.

Radiodetection partnership with large UK contractors shows that the correct use of C.A.T4 and Genny 4 tools, combined with monitoring can reduce cable strikes by 33% or 2 strikes a year

The 2014 Utility Strike Damages Report from USAG (Utility Strike Avoidance Group) showed that the direct costs of strikes, averaged around £3600

2 fewer strikes per crew would results in average cost savings of £7,200 a year. A contractor with 100 crews could achieve savings of £720,000, this without considering personal injuries compensations and reputation damages

 

 

 

Using a standard web browser Health and Safety operatives and Team Supervisors can monitor the activities of their gC.A.T4 operators in the field.

C.A.T Manager Mobile runs on Android and Apple handheld devices, that, if connected to the internet will work automatically without the need of the C.A.T operator intervention.

 

   

             

At the end of each scan, usage-data is automatically transferred from the gC.A.T4 to the smart device.

 

The smart device automatically transfers the data to the server – if there is no internet connection available then it will wait until there is in order to sync.

 

Data is immediately available on C.A.T Manager Online for authorised users to review and analyse.