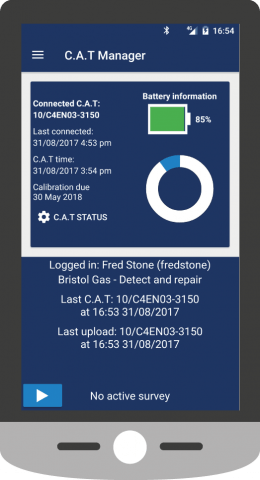 C.A.T Manager Online - Mobile
C.A.T Manager Online for Android or iOS links your gC.A.T4 to the Radiodetection C.A.T Manager online secure cloud.
Recording what users actually do with Cable Avoidance Tools is a vital component of a quality management approach to prevent damage and harm related to excavation of buried cables and pipes. To facilitate this, Radiodetection's gC.A.T4 records key parameters every second, and stores them in non-volatile memory. The data collected can be subsequently analysed using our PC application.
For customers with a fleet of CATs the problem has been to manage and analyse the data from all these devices quickly, simply and accurately. This problem is solved with the release of the new C.A.T Manager Online service from Radiodetection. Use this Android or iOS app to automatically transfer data from gC.A.T4s to the Radiodetection secure cloud. See data from all your CATs in near real-time, and ensure that all your operators are using their gC.A.Ts correctly.
Use of the C.A.T Manager Online service requires agreement to a set of terms and conditions. Radiodetection makes no warranties of any kind, written or oral, statutory, express or implied, with respect to this app, including, any implied warranties or merchantability or fitness for a particular purpose other than as set out in the C.A.T Manager Online terms and conditions. This app is designed for use by businesses that have professional, trained, operators for their Radiodetection gC.A.T4 devices. Older gC.A.T4 devices may require a firmware update to function with this app.
C.A.T Manager Online apps are free to download and use for Radiodetection Portal account holders.
Use the links below to download the latest version of C.A.T Manager Online
MDM administrators can contact the customer support team at rd_support@spx.com to obtain the relevant installers
Note:  iOS compatibility is only for gCAT4 produced from August 2016. Check the label above the battery compartment to verify if your gC.A.T4 is compatible
Google Play and the Google Play logo are trademarks of Google Inc.
Apple and the Apple logo are trademarks of Apple Inc., registered in the U.S. and other countries. App Store is a service mark of Apple Inc., registered in the U.S. and other countries.