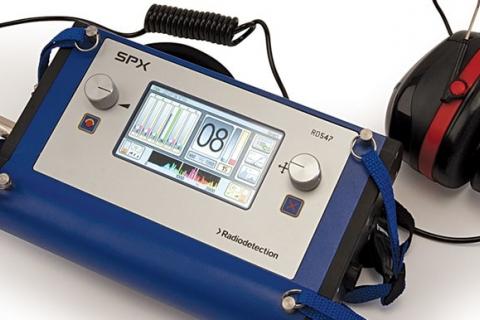 RD547
The RD547 can use both acoustic and tracer gas methods for water leak detection.
 
The RD547 is a single control unit that allows the water-leak specialist to use both acoustic and tracer gas methods for the location and pinpointing of leaks. In conjunction with the RD550 it can also be used to locate and trace underground water pipes. Optional accessories allow the user to customize their toolkit to meet their business needs. 

The control unit features a color touchscreen display with LED backlight for ease of reading in daylight.  For acoustic measurements the control unit features a "Smart Mode" which uses advanced signal processing methods to determine if the noise measured is consistent with the noise of a leak. Displayed alongside the traditional geophone result, this measurement gives the user greater confidence in their results.
Three acoustic devices are available
• Universal microphone: optimized for flexibility, this general purpose microphone comes with range of attachments, making it suitable for fittings or ground measurements. 
• Ground microphone, (geophone): with a windproof shield and lower frequency capability the ground microphone is optimized for outdoor use.
• Test rod: extendable tips and rigid handle allow measurements to be taken on deeper set utility fittings. 
For tracer-gas detection a hydrogen sensor can be attached, with an integrated battery powered pump to accelerate time to measurement.