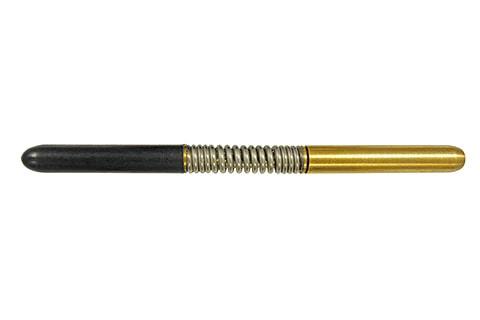 S9 MiniSonde 33kHz
The S9 MiniSonde is a small 9mm (0.35") diameter transmitter designed to be inserted into non-metallic pipes or ducts, and enables operators to trace the route of small diameter pipes or ducts and to precisely locate any blockages.
The flexibility of the S9 MiniSonde allows the Sonde to travel around bends or pass existing cables, while durable design and construction helps to protect the S9 MiniSonde from damage when travelling around bends or when encountering obstacles within the duct. The S9 MiniSonde is the ideal accessory for small diameter ducts, where flexibility and strength are required.
Locatable to 13' (4m) and measuring 0.35 x 5.4" (9 x 138mm). Supplied as a kit that includes Sonde, 2 batteries and case.
Part No: 10/SONDE-MINI-33 
Pack of 10 x batteries for S9 MiniSonde.
Part No: 10/SONDE-MINI-BATPACK
Detection Depth 4m    
Battery 1 x lithium cell
Min. bend radius 130mm    
Diameter 9mm (0.35")
Signal frequency 33kHz    
Total operating length 137mm
Battery Life Approx. 10 hours at room temperature, 8 hours at 0ºC temperature
Rod fitting M6 female/adhesive fit
Product offering 
The S9 MiniSonde is sold as a kit, containing: 
a. S9 MiniSonde 
b. 2 x batteries 
c. Case 
d. User guide 
A pack of 10 replacement lithium batteries is also available 
Find out more about the S6 MicroSonde.