Cable and Pipe Location Theory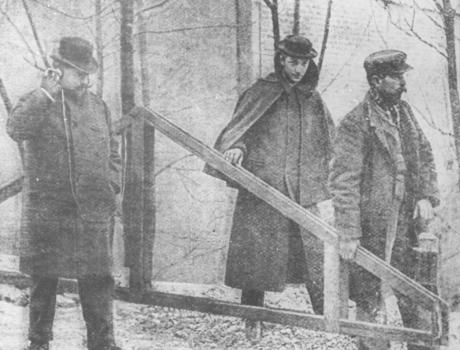 Cable and Pipe Location
The principles of electromagnetic induction have been understood since Michael Faraday's discoveries in the early nineteenth century. As this photograph shows, electromagnetic induction was being used to locate buried cables soon after the turn of the century. The photograph was taken in Germany probably about 1910.
Modern technology has advanced to the point where electromagnetic cable and pipe locators are portable, reliable and accurate.  They are used across the globe to find underground cables and pipes. These notes are intended to give those involved in the day-to-day problems of cable and pipe location an understanding of the principles on which electromagnetic detection is based. No theoretical qualifications or skills are needed to use Radiodetection equipment successfully, but the addition of some understanding of what is actually going on in this invisible world of magnetic fields will help to increase the user's confidence.  Included in this guide is:
Using the Earth/Ground stake
Active vs. Passive signals
Induction mode vs Clamping
Using Sondes
Measuring depth
Measuring current
Using current direction for congested cables
It is a valuable guide for the advanced practitioner and learner alike.
Download the complete guide