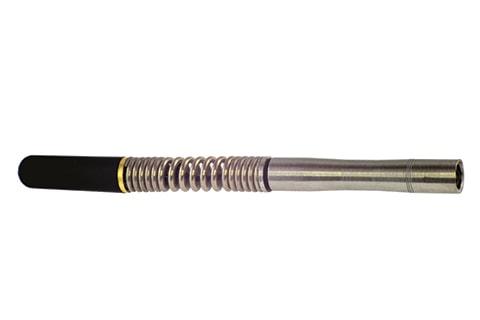 S6 MicroSonde Kit 33kHz
The S6 MicroSonde is a very small transmitter designed to allow operators to trace and detect blockages in even very small buried pipes and ducting.
With a diameter of only 6.4mm / ¼", it is particularly suitable for tracing blockages in fiber-optic microducting or for tracing other small non-conductive pipes.
Locatable to 6.5' (2m) and measuring 0.25 x 3.5" (6.4 x 88mm). Supplied as a kit that includes Sonde, flexible adaptor, 2 batteries and case.
Part No: 10/SONDE-MICRO-33
Pack of 10 x batteries for S6 MicroSonde.
Part No: 10/SONDE-MICRO-BATPACK
Detection Depth 2m
Battery1 x lithium cell
Min. bend radius130mm
Diameter 6.4mm Ø
Signal frequency 33kHz
Total operating length 88mm standard 
Battery life Approx. 10 hours at room temperature, 8 hours at 0ºC temperature
Rod fitting M5 female/adhesive fit
Product offering 
The S6 MicroSonde is available as a kit, containing:
• S6 MicroSonde 
• Rigid battery cap 
• Flexible battery cap 
• 2 × batteries 
• Case 
• Manual 
A pack of 10 replacement lithium batteries is also available.