Service Centers
Service Centers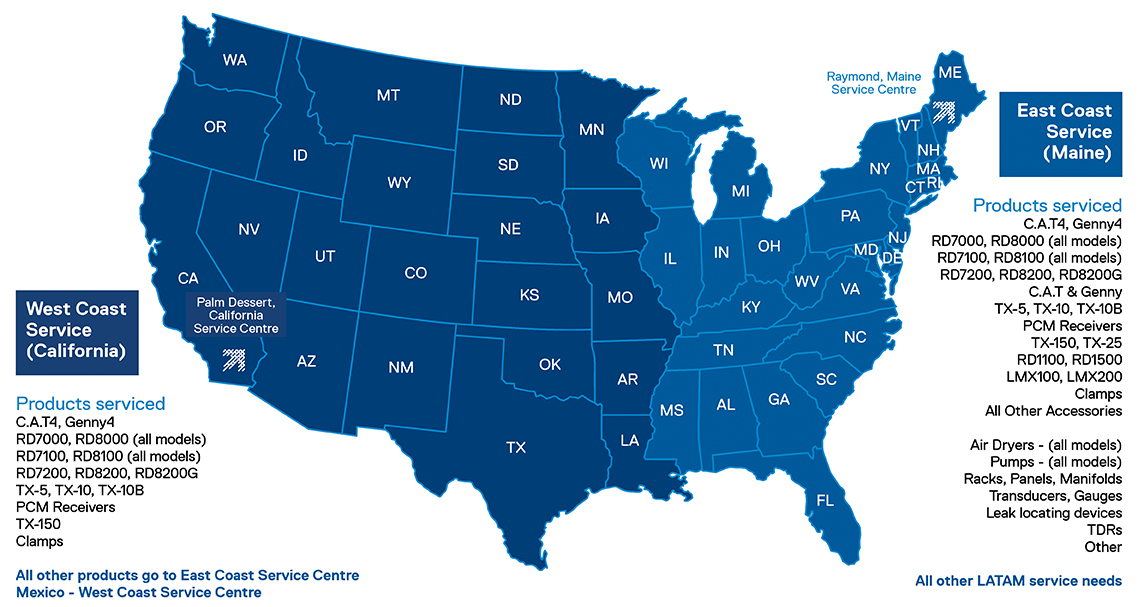 US Service Center

Radiodetection Service Center
28 Tower Road
Raymond, ME 04071
USA
Toll Free: 877-247-3797
Telephone: 304-725-1050
Email: RD_Service@spx.com
For assistance outside normal business hours, please call us at 877-247-3797 and follow the instructions on the automated attendant to page a service technician to assist you.
Emergency Dryer Replacement As part of our commitment to best serve our customers in emergency situations, we maintain an inventory of air dryers that are available for immediate shipment to areas that experience any type of dryers failure or require additional capacity. Arrangements can be made to have these dryers delivered directly to the location, with all accessories required to restore the office along with whatever level of factory support you desire. Should you require an emergency replacement air dryer please contact Dielectric Technologies at (877) 247-3797
The Radiodetection Service Center does not repair Pearpoint/CUES equipment. 

Inspection Products
Pearpoint
39-740 Garand Lane, Unit B
Palm Desert CA 92211
USA

Toll Free: 800-688-8094
Telephone: 760-343-7350
Fax: 760-343-7351
E-Mail: dl-pp.service.us@spx.com
Canada Service Center

Radiodetection Canada Ltd.
1040 Stacey Court
Mississauga
Ontario
L4W 2X8

Telephone: (905)-660-9995
Fax: (905)-660-9579
Toll Free (Canada Only): 1-800-665-7953
E-Mail: ming.ng@spx.com



UK Service Center

Radiodetection Ltd
Western Drive
Bristol
BS14 0AF
United Kingdom

Tel: +44 (0) 117 976 7776
Fax: +44 (0) 117 976 7775

Email: UKservice@spx.com
Email: Export.support@spx.com



Inspection Products

Bordon Service Center Radiodetection Ltd
49 Woolmer Way
Bordon
Hampshire
GU35 9QE

Telephone: +44 (0) 1420 470207
Email: pearpoint.service.uk@spx.com
Inspection Mobile Service
North Inspection Mobile Service contact: Andrew Barnard
Telephone: 07803 263946

South Inspection Mobile Service contact: Nigel Swainbank
Telephone: 07803 263936



European Service Center

Radiodetection Service Center
Industriestraat 11
7041GD's - Heerenberg
Netherlands

Telephone: +31 (0) 314 66 47 00
Fax: +31 (0) 314 66 41 30
E-Mail: rd.service.eu@spx.com



China Service Center

Radiodetection (China)
China Service Center
13 Fuqianyi Street
Minghao Building D304
Tianzhu Town, Shunyi District, Beijing 101312, China

Tel: +86 (0) 10 8416 3372

E-Mail: rd.service.cn@spx.com