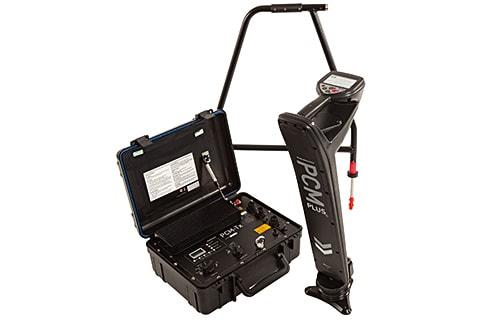 PCM+ and PCM+ Transmitter
This discontinued product has been replaced by the exciting new PCMx range of products.
Radiodetection's PCM+ system accurately detects and pinpoints weaknesses & holidays in oil & gas pipeline coatings.

Combined with its new high performance transmitter the PCM+ accurately and easily locates and maps pipelines for up to 19 miles, providing simultaneous measurement of PCM Current and Voltage Gradient, even in areas where there is contact with other metallic structures, interference, or congestion. This eliminates the need for the pipeline technician to perform direct connection 'current spans' and manual calculations to determine CP currents along the pipeline reducing false indications and minimizing unnecessary excavations. Any current leakage fault in the pipeline coating can be further narrowed down to within 3 feet by use of the A frame.
Precision Locator and PCM in one unit
Accurate, high over-sampled measurements, 96000 Samples/sec
8kHz Fault Find
Improves fault indication integrity
Minimizes unnecessary excavations
Identification of pickup/discharging from 3rd party CP Systems
Low power for full day survey (2 x D Cells)
Current mapping
Quicker 3 Second current Mapping and up to 1000 measurements stored on PCM+ receiver.
If PDA has GPS then software automatically includes xyz and time stamp for inclusion in graph.
Integrates with standard GIS software.
Realtime upload of measured data via Bluetooth to PDA or PC using Radiodetection PCM+ software application, presents recorded data in graphical or raw data format.
PC / PDA graph display modes (against distance):
Locate depth
ACCA PCM current (mA and dBmA)
Phase
ACVG
Position (using GPS)
PCM+ Transmitter
One portable case
Easy to use
High power 150 Watt
19 miles range @ 4Hz
New programmable, digital processor based for reliability
Improved overload protection
Negative drive voltage
Optional switch around zero for full power limited duration
Improved environmental sealing
The Bluetooth word mark and logos are registered trademarks of Bluetooth SIG, Inc. and any use of such marks by Radiodetection is under license.