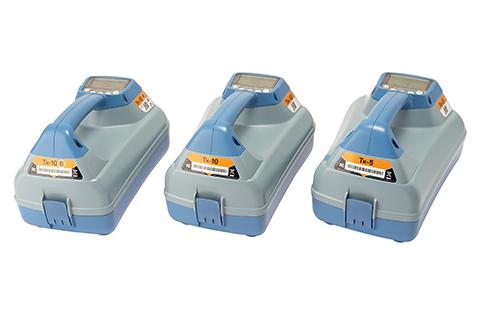 Multifunction Signal Transmitter
The Tx family of signal transmitters has been designed to perfectly complement Radiodetection's advanced high-precision cable and pipe locators including the RD8200, RD7200, and Marker Locator ranges.
The Tx range is designed to meet the demands of tracing utilities through today's complex underground infrastructure. The Tx-5 has a medium power and induction capability as well as Fault-Find. The Tx-10 has the highest power capability with both Fault-Find and CD modes as standard.
The transmitter range features locate frequencies compatible with locators across the Radiodetection Precision Locator ranges, and can be easily customized to match your chosen locator using the 'model' feature. 
All transmitters feature constant current across their entire bandwidth in all modes (direct connect, clamp or inductive mode), and deliver convenience on-site with an IP65 ingress protection rating, removable accessory tray and a large, high-contrast, backlit LCD screen.
iLOC remote control
iLOC is an advanced Bluetooth® link between the RD8200 locator and transmitter, which allows you to control the locate signal's power and frequency from up to 1400' / 450m away.  Less time walking and more time locating.
90V maximum output
High voltage output makes sure that you can get locatable signal onto even high impedance lines like telephone pairs.
Fault Find
Apply a Fault-Find signal with the Tx-5 and Tx-10 transmitter and use an accessory A-frame to detect and pinpoint insulation faults.
SideStepAuto
The transmitter can be used to recommend a general-purpose locate frequency for the intended locate task by measuring the impedance of the target cable or pipe. SideStepAuto helps to improve locate accuracy and extends battery life.
Automatic impedance matching
Transmit your locate signal as far as possible by automatically matching the transmitter impedance to that of your target cable.
Lithium Ion battery pack option
Deliver extended run-time, lighter weight and superior cold-weather performance by comparison to standard alkaline batteries.
No need for operators to replace, manage and recycle alkaline battery cells, reducing the associated costs, workload and environmental burden.
Built for on-site use – IP65
Shock resistant, ingress protected casing protects against knocks, drops, water and dust.
ECO mode
Extend alkaline battery life by enabling ECO mode. When a low battery condition is detected the transmitter gradually reduces the power output and provides audio and visual warnings.
Multimeter function
Measure output voltage, line voltage, current, impedance and power, and characterize faults on the target line before beginning a survey
Accessories to optimize the system to your needs